Urban Street Stormwater Guide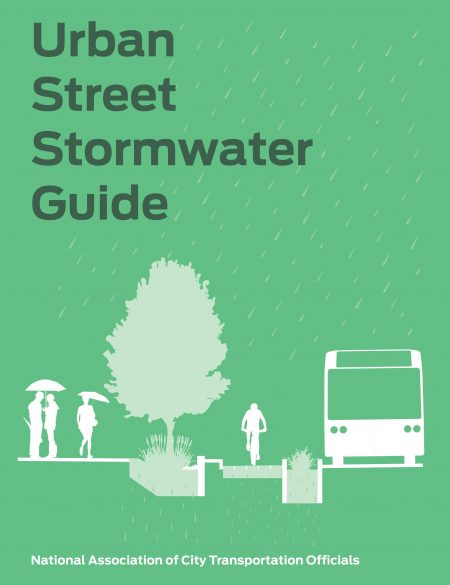 Thông tin chi tiết:
Tác giả: National Association of City Transportation Officials
Số trang: 171
Định dạng: PDF
Ngôn ngữ: Tiếng Anh
Streets make up more than 80 percent of all public space in cities, yet street space is often underutilized or disproportionately allocated to the movement of private motor vehicles. Excess impervious surface contributes to stormwater runoff, posing a threat to the environment and human health, and often overwhelming sewer systems. This excess asphalt also poses a threat to public safety, encouraging faster speeds and dangerous conditions for people walking and biking.
The Urban Street Stormwater Guide begins from the principle that street design can support—or degrade—the urban area's overall environmental health. By incorporating Green Stormwater Infrastructure (GSI) into the right-of-way, cities can manage stormwater and reap the public health, environmental, and aesthetic benefits of street trees, planters, and greenery in the public realm. With thoughtful design, GSI can bolster strategies to provide a safe and pleasant walking and biking experience, efficient and reliable transit service, and safer streets for all users.
Building on the successful NACTO urban street guides, the Urban Street Stormwater Guide provides the best practices for the design of GSI along transportation corridors. The authors consider context-sensitive design elements related to street design, character and use, zoning, posted speed, traffic volumes, and impacts to non-motorized and vehicular access. The Guide documents and synthesizes current practices being developed by individual agencies and recommends design guidance for implementation, as well as explores innovative new strategies being tested in cities nationwide. The guidance will focus on providing safe, functioning and maintainable infrastructure that meets the unique needs and requirements of the transportation corridors and its various uses and users.
The state-of-the-art solutions in this guide will assist urban planners and designers, transportation engineers, city officials, ecologists, public works officials, and others interested in the role of the built urban landscape in protecting the climate, water quality, and natural environment.