Partners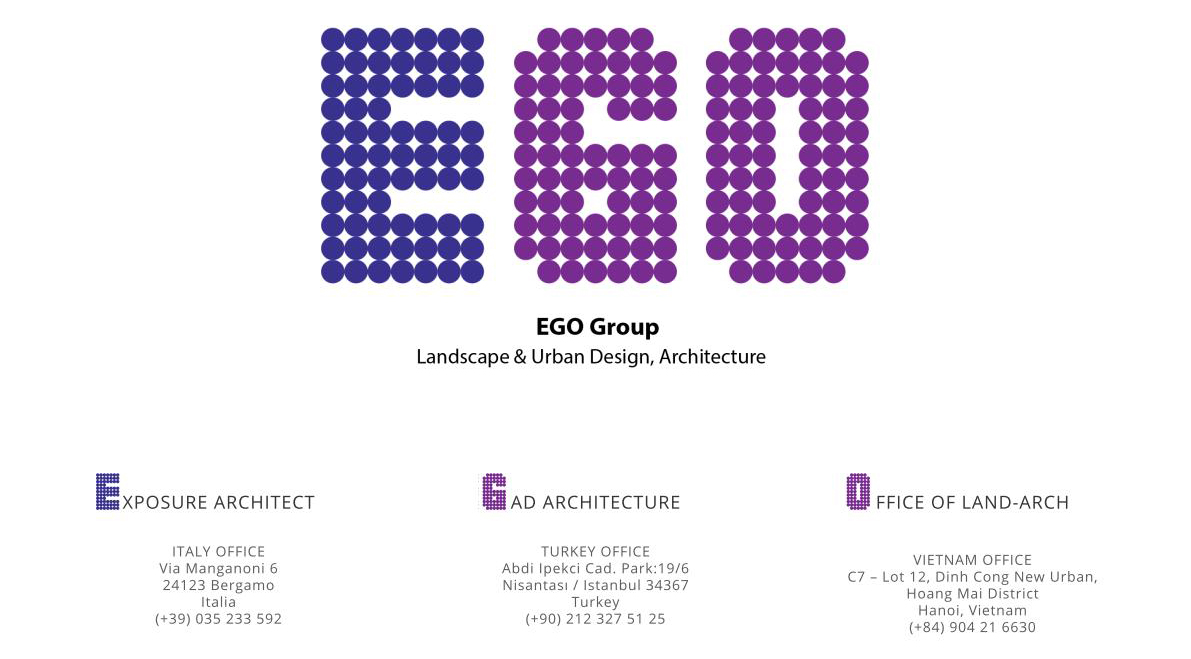 Ego Landscape – Vietnam, Exposure Architects-Italy and GAD-Turkey join up to offer turn key design projects in Vietnam.
A successful project in architecture is always based on the combination of several factors: A strong experience in delivering complete packages from conceptual development down to working drawings, the capability and experience to work in several contexts and architectural scale around the world, the ability to adapt to local, specific requirements and the right people for the project's acquisition and for the field work, day by day, follow up.
By teaming up together EGO a local, dynamic and young Vietnamese company with experience in landscape architecture with Exposure Architects, an Italian office that has already built award winning architectural projects in Thailand, Spain, Argentina and Israel and with GAD from Turkey which is also an award winning firm with hundreds of large architectural projects worldwide, we have created a perfect project machine that is able to design any kind of building, master plan, at urban scale and regional scale. We can provide solutions for large villas compounds, high rise urban apartments, mixed use complexes and any large architectural project, all the way to interiors projects for apartments, shops and restaurants.
GAD is an architectural practice based in Istanbul, New York, Bodrum and has been a leader in research and concept design since 1994. The firm is headed by design principle Gokhan Avcioglu, who works with a team of dedicated staff comprising of architects and global collaborators. GAD is a member of the Turkish Society of Builders and Architects (TMMOB), American Institute of Architects (AIA), Royal Institute of British Architects (RIBA), French, National Architects Order Board and Dutch Bureau Architecten register.
The firm's main office is in Istanbul with additional offices in New York and Bodrum. GAD & Gokhan Avcioglu have designed a wide range of projects from small scaled private residences to large scaled urban design. While many GAD projects are highly recognized public facilities, such as cultural centers, there are also several distinguished private projects including apartment buildings, offices and hotels. The practice has been awarded numerous international prizes.
https://www.gadarchitecture.com/en/
Exposure Architects is formed by Oliviero Godi and Dorit Mizrahi.
Exposure Architects are part of a new breed of Italian architects, formed abroad, that has an international working experience and is considered, by Italian and foreign critics, one of the best expression of the new Italian architecture.
Called upon to represent Italy on several occasions, including the Biennale of Art and Architecture in Brazil, included in the list of the Top Young European Architects, they have done projects in many countries, for local clients and builders, to produce outstanding buildings, some of which are considered among the new architectural wonders of the world.
Their work has been recently exhibited at MAXXI museum in Rome from October 2013 till May 2014 as one of the best Italian architects working abroad
www.exposurearchitects.com
Vietnam EGO Landscape Architecture Joint Stock Company – EGO Landscape is proud to be one of very few first companies of Vietnam operating in the field of professional landscape design. Ability to understand native factors, creative thinking along with contemporary landscape techniques make EGO landscape's design styledistinct. We always bring success for the investors in Vietnam with different and interesting design solutions.
EGO landscape's team is always shaped like a football team that has its own, creative and cohesive style of play in which each member has an ego full of personality, rich in passion and desire to create miracles for life.
www.egolandscape.vn
Local Partners